Yes, we interfere in America's elections!
In spite of negation of the Duma Early this morning to deal with the issue of US election interference is dawning Yevgeny Prigozhin The famous Russian businessman who is close to Russian President Vladimir Putin came as a big surprise.
The Wagner Fighting Group founder, who has previously been accused of running a number of accounts intended to influence US politics, has admitted to meddling in the election, adding that he will continue to do so in the future.
"We will continue to interfere."
"We interfered (in the US election), and we're getting involved now, and we'll continue to interfere carefully, accurately, and in our own way as we get through it!" he said in a comment on the website of his catering company Concorde, on Facebook.
Prigozhin's comment, who is subject to US and European sanctions and who has been accused for several years of interfering in US elections, particularly the 2016 presidential election, came on the eve of the midterm elections, which will be held tomorrow, when Americans will go to the polls to replace most members of the House of Representatives and one-third of the Senate seats, and to elect 30 out of 50 state governors.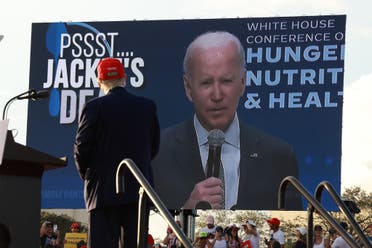 Trump spoke in Miami yesterday, with a large picture of Biden next to him (AFP)
The Duma denies
It also came after State Duma speaker Vyacheslav Volodin denied those rumors earlier this morning, stressing that his country would not interfere in the US elections nor allow interference in its affairs.
He also viewed these allegations as precautionary justification by the Democratic Party for its defeat in tomorrow's Senate and House elections following the mistakes of the Joe Biden administration, he said.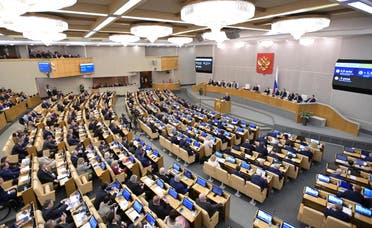 Russia's State Duma (Reuters)
fake accounts
It is noteworthy that US sources reported yesterday that fake accounts launched a campaign to influence the results of the elections, suggesting that a Russian agency that interfered in the 2016 and 2020 elections is now changing its practices repeatedly, as reported by the New York Times.
It also found that these accounts flagrantly launched a massive smear campaign against US President Joe Biden and other prominent Democrats.
Last month, the FBI and the Cybersecurity and Infrastructure Security Agency warned of disinformation spreading through "web media, online magazines, messaging apps, fraudulent websites and emails" promoting false claims about privacy breaches or voting results.

#interfere #Americas #elections