We want to further increase the pressure on the Iranian regime
middle sequel protests in Iran Eight weeks ago, following the death of young Kurdish woman Mahsa Amini after security forces violently confronted protesters, German Chancellor Olaf Scholz announced on Saturday that he was ready to impose a new round of European Union sanctions on Tehran this week.
"We want to further increase the pressure on the Revolutionary Guards and the political leadership," Schultz said in a video clip posted on Twitter, according to Reuters.
about 30 names
This comes as European Union foreign ministers on Monday discussed the imposition of new sanctions against… Iran In response to the suppression of protests that broke out after Amini's death, the Lithuanian foreign minister said.
"We will propose further lists that can be added to the sanctions list," Gabrieleus Landsbergis said during a visit to Berlin, explaining that the new sanctions "will include two aspects: Iran's involvement in the war in Ukraine alongside Russia, in addition to human rights abuses in Iranian cities."
Clashes between Iranian riot police and protesters in Tehran (AFP archives)
A European diplomat, in turn, announced in Brussels that the new sanctions package aims to add "about 30 names" to individuals or entities previously targeted by the European Union, which imposed sanctions on Iran's "morality police" and March 11 in mid-October Seniors imposed officials, according to AFP.
Federal Foreign Minister Annalena Birbock indicated earlier this week that the 27 members of the European Union will adopt new sanctions.
Unprecedented
It is worth noting that since the death of Amini (22 years old) on September 16, 3 days after she was arrested by the "morality police" while visiting Tehran with her younger brother for allegedly violating the strict dress code imposed, the demonstrations have been imminent country not returned.
Her death sparked three years of unprecedented protests by university and school students, women and girls in various provinces in Iran.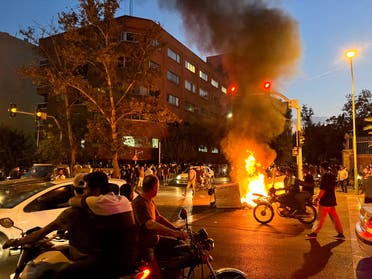 From the protests in Tehran (Reuters archives)
Meanwhile, the security forces used violence against the demonstrators, killing hundreds of them. The human rights activists' news agency Hrana said 314 demonstrators were killed in the riots, including 47 minors.
At least 14,170 people, including 392 students, were arrested in the protests, which took place in 136 cities and towns and 134 universities.

#increase #pressure #Iranian #regime