We call for the start of an investigation into human rights violations in Ethiopia
Today, Saturday, the US State Department welcomed a mutual commitment Peace agreement in Ethiopia By providing "unhindered" humanitarian assistance to Tigray and affected areas in the Afar and Amhara regions to meet the needs of the most vulnerable.
The ministry said in a statement it welcomed the signing of the Declaration on Arrangements for the Implementation of the Ceasefire Agreement between the Ethiopian government and the Tigray Liberation Front, signed today in Nairobi.
The statement added, "The United States is the largest contributor to humanitarian assistance to Ethiopia, and we will continue to get it to those who need it most."
investigation of human rights violations
The statement called on the parties to the peace agreement to respect the cessation of hostilities, expedite unhindered humanitarian access, protect civilians and restore basic services throughout northern Ethiopia.
The US State Department also called for investigation and accountability of "human rights abuses" in the north of the country.
By Tigray (Reuters archives)
peace treaty
Ethiopian National Security Advisor Radwan Hussein announced today the signing of the Declaration on the Implementation Plan of the Peace Agreement with the Tigray Front reached in Pretoria, South Africa.
It is noteworthy that the agreement, signed Saturday by Marshal Berhanu Gula, the Ethiopian armed forces' chief of staff, and General Tadesse Warede, the supreme commander of rebel forces in Tigray, provides that "humanitarian aid will reach all who need it."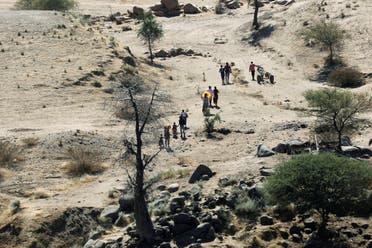 Forced out of Tigray (Reuters)
implementation immediately
Former Nigerian President Olusegun Obasanjo, the African Union's special envoy, said its implementation would have "immediate effect".
The conflict in Tigray began in November 2020 when Ethiopian Prime Minister Abiy Ahmed dispatched the federal army to evict regional leaders who had questioned his authority for several months and accused them of attacking federal military bases in the region.
The Tigrayan rebels were defeated early in the conflict, but they retook most of the region in a 2021 counteroffensive that extended to Amhara and Afar, bringing them close to Addis Ababa.
The rebels then withdrew towards Tigray, which has since been cut off from the rest of the country and bereft of electricity, communications networks, banking services and fuel.

#call #start #investigation #human #rights #violations #Ethiopia