Ukrainian forces are mobilizing for an impending attack
While the evacuation of local residents and civilians continues daily Ukrainian city of Kherson After Russia annexed its territory last September, pro-Moscow regional authorities announced that Ukraine had mobilized tanks and armored vehicles to prepare for an imminent attack.
On the other hand, the Ukrainian army denied these allegations, pointing out that Russian forces are forcibly evacuating residents of Kherson, an Al-Arabiya correspondent reported on Sunday.
To catch!
The comments came after pictures circulated online a few days ago showing the main administrative building in Kherson without the Russian flag hoisted above it, amid indications of Russia's willingness to abandon its military foothold on the west bank of the Dnipro River, including Kherson, the only major one City it has controlled since the military operation began last February.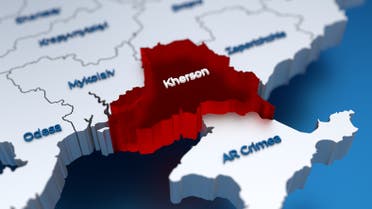 Location of iStock Kherson on the map (emoji from iStock)
However, Kyiv expressed concern as such signals could be a Russian deception to ambush Ukrainian forces.
bad situation
It is noteworthy that Russian General Sergei Surovkin, who was tasked with directing military operations in Ukraine last month (October 2022), previously admitted that the situation in southern Ukraine was weeks after the last one launched by the Ukrainian Armed Forces Counteroffensive very bad was September, aiming to regain control of many cities and towns in the south and east.
painful blow
Kherson is among the four regions that the Kremlin announced in late September (2022) that it would be annexed to Russia, and thus Ukrainians' renewed control of them would deal a painful blow to the Russian army and its reputation.
This region is also of particular importance as it includes the dam of the Kakhovka Power Plant and the Antonovsky Bridge, which connects the city to the south bank of the Dnieper River and the rest of the Kherson region.
The geographic location of Kherson is also of particular importance, as the city lies on the borders of the Dnepropetrovsk and Nikolaev regions and has a land border with Crimea to the south, while overlooking the Black Sea to the south-west and the Sea of ​​Azov to the south-east.

#Ukrainian #forces #mobilizing #impending #attack