Ukrainian experts at the "Poland Missile" site… and Kyiv confirms its cooperation
Ukrainian Foreign Minister Dmytro Kuleba said on Friday that Ukrainian experts are already working at a site in the border region of south-eastern Poland, where A missile killed two people.
Kulebia wrote on Twitter that Ukraine will continue "open and constructive" cooperation with Poland over Tuesday's accident that killed two people.
Warsaw and its western allies say evidence from the scene suggests the blast was caused by a missile fired by Ukraine's air defenses launch a Russian missile. Kyiv denies this and says it has evidence of a "Russian trace" in the blast.
From the site of the rocket explosion in south-eastern Poland
"Ukrainian experts are already working on the scene of the tragedy in Psevodov caused by Russian missile terrorism against Ukraine," Kuleba wrote.
"I am grateful to the Polish side for allowing access to the experts. We will continue to work together openly and constructively, as will our closest friends," he added.
Power cuts for 40% of Ukrainians in winter
In another context, the company that operates Ukraine's power grid warned for hours of power outages today, Friday, as Russia focuses on Ukraine's energy infrastructure Artillery and missile attacks which cut off up to 40% of the population from supplies at the beginning of winter.
According to Okranergo, outages in cooler temperatures could last for several hours and put additional strain on the power grids.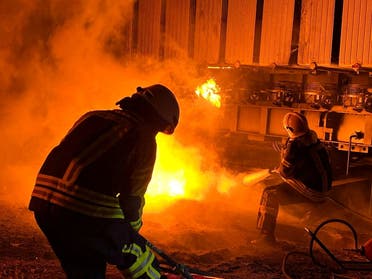 Attempt to extinguish a fire at a power plant in Kyiv after a Russian bombing raid this week
"You always have to prepare for the worst and we understand that the enemy generally wants to destroy our power system to create long disruptions. But now we are presenting planned timelines and we will do our best to make sure we do that ." not The breaks are very long.
Kudritsky added that the energy situation has stabilized in vital facilities such as hospitals and schools.
According to the region's governor, Oleh Sinyhopov, shelling and rockets in the north-eastern Kharkiv region throughout the night targeted "critical infrastructure" and damaged power plants. He added that eight people were injured trying to clear the rubble.
Moscow's attacks on Ukrainian power plants in recent weeks have left millions without heat and power, stoking fears of what the bleak winter will bring.
These attacks are also having a negative impact on neighboring countries such as Moldova, which has experienced temporary power outages in six cities across the country.

#Ukrainian #experts #Poland #Missile #site.. #Kyiv #confirms #cooperation