Turkish Defense Minister to his Russian counterpart: We will continue our operations in Syria
after you came Russian warnings Of every Turkish ground military operation in northern Syria, Turkey announced that it would continue its air operations.
In a phone call between Russian Defense Minister Sergei and his Turkish counterpart Hulusi Akar, the latter confirmed that his country would continue military operations against the Kurdish armed groups it accuses of terrorism.
avoid the danger completely
He also stressed that "his country's priority is to permanently prevent the terrorist threat from northern Syria," according to Reuters.
He made it clear that all previous agreements on this subject must be observed.
Turkish forces in northern Syria (Archive – France Press)
The Russian Defense Ministry reported that the two ministers discussed the situation in Syria and the Black Sea Grains Agreement.
invasion alerts
Russian Foreign Ministry spokeswoman Maria Zakharova, as well as Russian envoy to Syria Alexander Lavrentiev, previously warned of the dangers of a Turkish ground invasion of northern Syria, stressing that it would increase tensions in the region.
He also warned of the dangers of this military move to bolster militant activity in the region, particularly those remnants of ISIS.
Lavrentiev suggested organizing a meeting between Turkish President Recep Tayyip Erdogan and his Syrian counterpart Bashar al-Assad "if there is a common desire between the two sides".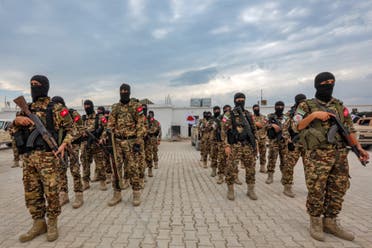 Pro-Turkey groups in northern Syria (AFP)
"You will not be limited to the atmosphere."
However, Turkey had also previously stressed that its air operations and recent attacks against Kurdish forces would not be limited to air and could turn into a ground operation.
And since last Sunday, Ankara has conducted a series of airstrikes and continuous artillery shelling against Kurdistan Workers' Party and Kurdish People's Defense Units locations in northern Iraq and Syria as part of the so-called Operation Claw Sword.
While this operation took place after Ankara, despite their denials, accused the two parties of detonating an explosive device in Istanbul on November 13, killing six people and injuring 81.

#Turkish #Defense #Minister #Russian #counterpart #continue #operations #Syria