Tourism in Indonesia for families.. 6 wonderful places on a family trip
Indonesia is a wonderful and ideal country to discover with family. Young and old will be amazed by the beauty of the landscape. Here are the places of tourism in Indonesia for families.
Every day on a family trip to Indonesia is an opportunity for unforgettable discoveries, as this archipelago of more than 17,000 islands in the heart of the Indian Ocean encompasses a multitude of cultures and traditions that one cannot ignore to learn about while visiting Indonesia.
The Indonesian landscape is exotic with lush vegetation, terraced paddy fields, countless paradise islands, photogenic volcanoes, exotic fauna from monitor lizards to giant butterflies and an amazing seabed, all this is in beautiful Indonesia so we share it with you in the following report The most beautiful places of tourism In Indonesia for families on a short trip.
The best travel time for Indonesia with children

The best time to travel to Indonesia with kids is the dry season as the dry season extends from April to October and the rainy season occupies the rest of the year. We therefore advise you to visit Indonesia at this time of the year, since you will benefit from the climatic conditions more suitable for outdoor activities and the temperature at this time is 30 ° C during the day and 23 ° C in the evening. However, be aware that the The months of July and August correspond to the peak travel season.
Where to go with the family in Indonesia?

Among the various islands of the Indonesian archipelago, some like Bali, Java and Lombok are more family-friendly as these cities offer many Tourist activities Which is fun for children and adults alike.
Tourist places in Indonesia for families

1. Tirtagganga Water Palace in Bali
It is a private and modern garden, created about 50 years ago, which is a peaceful oasis with fountains, mercury pools and typical statues.It is also possible to swim in one of the pools inside, which children will surely love.
2. Flores Island


The island of Florès is a small jewel of nature with its volcanoes such as Kelimutu, lakes and bays such as Maumere and Labuan Bajo and model villages preserved as it is classified as a World Heritage Site and UNESCO Biosphere Reserve.
The island is famous for its garden, Komodo National Park. If you are looking for the best places of tourism in Indonesia for families, visit the famous giant lizards, Komodo dragons in this most famous park in Indonesia and you can also see many other animals like the monitor lizard .
3. Kalimantan National Park in Borneo


If you are looking Tourist places in Indonesia For families that make kids and adults happy together, I visit orangutans and many animals in Borneo's Kalimantan National Park as this is an opportunity for kids to see exotic animals.
There are also rhinos, hornbills, the longest snake in the world and turtles that come to the jungle banks in Meru Peteri National Park.
4. Enjoy the seabed at Bunaken Island


The seabed of Indonesia is a real enchantment like the atolls off Bunaken in North Sulawesi, the seabed of Menjangan Island, the Gili Islands or in Nusa Tenggara, and you can also explore the seabed of the island of Raja in the dive sites of Pulau Moyo and Alor -Ampat Islands in the Raja Archipelago of Ampat.
On Bunaken Island you can snorkel with your children and enjoy a real underwater paradise among colorful groups of fish, colorful coral reefs, giant turtles, dolphins and manatees.
5. Paradise Beaches in Indonesia


Whether you are in the bays, lagoons or black, white or golden sand beaches in Indonesia, you are in a beach paradise including the following:
Southeast of Yogyakarta, Indrayanti or Pulang Syawal Beach is family-friendly with its golden sands and calm waters, so your kids can swim and have fun in the water.
If you are in Komodo Island to see the famous kites, you can stroll along the pink sandy Pantai Merah Beach in the south of the island.
The Gili Islands are ideal for snorkeling among tropical fish and sea turtles.
The white sandy beaches and emerald waters of Kuta on the island of Lombok bordering Bali.
6. Take your kids to Balinese dance and shadow theater performances


During your family trip to Indonesia, don't miss the opportunity to discover a Balinese dance show with intricate choreography, dancers in shimmering costumes and great traditional music.
Traditional Balinese dances and famous Wayang Kulit shadow puppet performances reminiscent of Hindu epics are part of Indonesian heritage and this is an opportunity to share a sweet festive moment with your kids.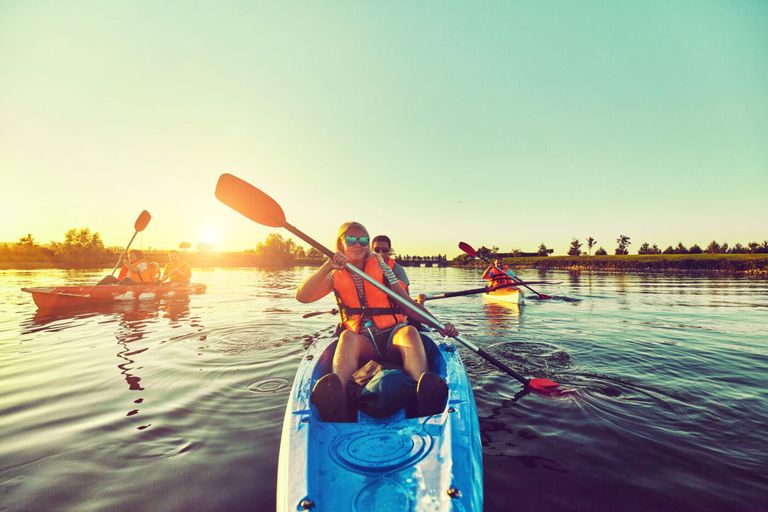 Water activities in Indonesia for teenagers

If you are vacationing with older children in Indonesia, why not introduce them to exciting activities like the following:
Embark on an adventure with a rafting trip down the Telaga Waja River in East Bali, descending 14 kilometers of rapids past cliffs, waterfalls and Balinese cultural sites.
You can kayak on Lake Batur, Bali's largest lake, and end your picnic with a soak in the hot springs.


Accommodation for families in Indonesia

Hotel in Ubud, Indonesia: Spacious suites and villas for up to 6 people near downtown Ubud with an outdoor pool and babysitting service.
Hotel in Bali by the sea: hotel in Bali with private beach, kids club, 3 outdoor pools, family rooms for up to 6 people.
Gili Hotel with Private Beach: Bali hotel with private white sandy beach and rooms for up to 6 people with activities such as scuba diving, snorkeling, canoeing, horseback riding, windsurfing and glass bottom boat rides.
Ketapang Hotel by the Sea: hotel by the sea in Ketapang, rooms for up to 6 people, kids club, babysitting, outdoor pools.
Many hotels offer great deals on family rooms and offer some free perks like WiFi, private parking, and fitness centers.

#Tourism #Indonesia #families. #wonderful #places #family #trip