Tourism in Bhutan.. the most famous 6 tourist attractions in the arms of the Himalayas
Bhutan is one of the most unique countries in the world thanks to its geographic location in the heart of the Himalayas and its stunning scenery. Here are the places you should visit in Bhutan
Bhutan is a small country in the southern foothills of the Himalayas between the Republic of China and the Republic of India, its altitude is about 38,394 square kilometers, the weather always varies between 15 and 30 degrees in the northern regions and in the southern regions the temperatures rise.
Bhutan is rich in culture and diversity as many festivals and festivals are held in this beautiful country. Every city in this country has its own festival. Hence we will take you on a short tour The most beautiful places of tourism In Bhutan and its main attractions.
Best travel time for Bhutan

The best time to visit Bhutan is between October and December, when the country enjoys a mild climate and clear, sunny skies.
The main attractions in Bhutan

1. Rinpung Dzong


"Rinpung Dzong" is a beautiful fortress with high walls dating back to the 16th century steeped in Bhutanese architecture and tradition.
The whole area is full of many temples and shrines, and there are many events and festivals, so you can enjoy the country's official traditions.
2. Chele La Pass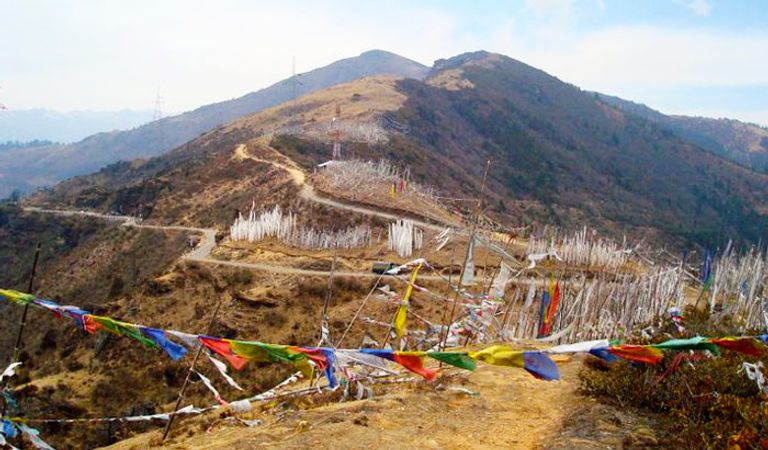 Located at an altitude of about 3,989 meters, Chele La Pass is one of the most popular tourist spots in Bhutan. The walkway offers a magnificent panoramic view of valleys, waterfalls, alpine flowers and clouds floating over the hills.
You can reach Shelly Pass by car, which takes about an hour and a half from the bottom of the Barrow Valley.
3. Illustration "Dordenma Buddha"


It is an approximately 169 feet tall Buddha statue built at the foot of the hills in "Thimphu". This famous gold and bronze statue can be seen from almost anywhere in Thimphu and is among the best tourist spots in Bhutan and next to this statue there are small temples and various paintings decorate concrete and rock walls.
4. Phobjikha City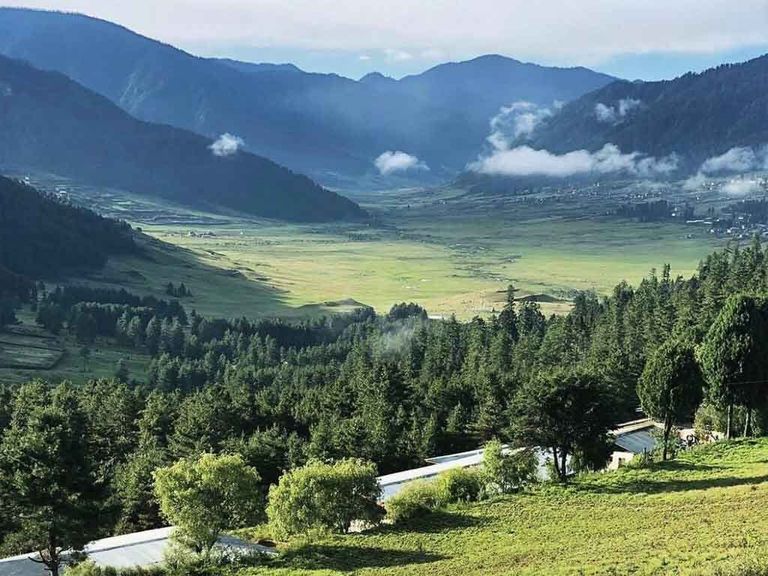 It is a small town in the central part of Bhutan. Like many other beautiful places in Bhutan, Phobjikha is full of valleys surrounded by mountains and lush greenery, making it one of the best attractions in Bhutan. The place is also famous for its beautiful landscapes and sidewalks. .
The Phobjikha Valley in this small town is about 3000 meters high in a bowl shape and is located on the western slopes of the mountains and borders with the Jigme Singye Wangchuck National Park. When you visit Bhutan, this is the most famous place.
5. Mount Chomolhari


It is one of the most famous tourist spots in Bhutan and the most popular for hiking. Chomolhari trekking from Paro is one of the most challenging treks in Bhutan, with an altitude of about 5000 meters and a charm for adventure lovers 7 to 15 days.
The ideal time to travel is from the end of March to mid-June, and September to November is also a good time, and ab Sightseeing features Glacial lakes, snow-capped mountains and beautiful landscapes are a feast for the eyes here.
6. Norzen Lam Street

The capital is perhaps the most beautiful tourist spot in Bhutan as the main street of Norzen Lam is lined with shops selling various things such as souvenirs, woolen clothing and handicrafts.
This street is the lifeblood of Thimbo and it is a very popular and always crowded place, you will be able to see some antiques and many other shops perfect for shopping.
Here you will find beautiful wooden objects, carpets and clothes symbolizing Bhutan, which you can get in the shops on the street. You can also try the local cuisine of the restaurants here and don't forget to taste these delicious dishes.

#Tourism #Bhutan. #famous #tourist #attractions #arms #Himalayas