To take one last farewell look… Pele's body in the Santos Club Stadium
The body of Brazilian soccer legend Pele arrived at the stadium of Brazilian club Santos in preparation for the last look ceremony.
And Brazilian media revealed that the procession carrying Pele's body arrived at the "Urbano Caldera" stadium in the Villa Belmero area early Monday morning.
Numerous fans have already gathered with flags in front of the stadium entrance.
The procession to transport the body had moved away from the Albert Einstein Hospital in Sao Paulo, where Pele breathed his last, under police and fire safety precautions, and the procession's journey covered about 80 kilometers and lasted about two hours.
Pele's body will be placed in the middle of the Santos club's stadium for the last look ceremony, according to the announcement from the club, for which Pele played for many years.
Brazilian President Luiz Inacio Lula da Silva is expected to attend the final 24-hour insight ceremony.
After the final ceremony, the funeral procession meanders through the streets of Santos, passing the home of Pele's mother, Dona Celeste, who recently turned 100.
Pele, who is the only player to be crowned with three world titles, died last Thursday at the age of 82 after suffering from colon cancer for more than a year and being hospitalized since November last year.
Addison Arantes Donascimento, better known as Pele, was born on October 23, 1940 in the city of Minas Gerais and became known in Brazil as the "king of football" after winning the World Cup three times in 1958, 1962 and 1970.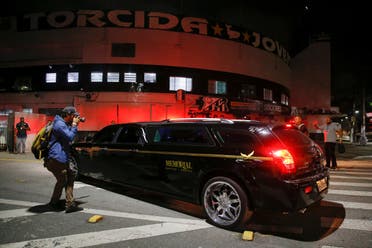 #farewell #look.. #Peles #body #Santos #Club #Stadium