The uprising in Iran wants to overthrow the government
How it goes on protests The Kurdistan Democratic Party, which erupted in Iran after the assassination of young Kurdish woman Mahsa Amini, stressed that "the uprising in all its sects wants to overthrow the country's government".
Party media representative Aso Saleh told Al-Arabiya/Al-Hadath today, Sunday, that the insurgency was multifaceted and not limited to any particular component.
In doing so, he revealed that the regime in Iran was trying to split the unity of the Kurds.
Khamenei's threats
It is noteworthy that despite threats from Murshid Ali Khamenei By suppressing the protests and calling on the judiciary to prosecute those involved in "evil actions," citing the popular demonstrations, about 30 cities in 18 governorates have been the scene of anti-regime protests over the past 24 hours .
Student demonstrations and strikes also took place in about 50 universities and colleges in Tehran and other cities, according to reports on social media.
From the Tehran protests (archived by Associated Press)
Anger over multiple issues
Demonstrations have been sweeping the country since September 16, 2016, after 22-year-old Amini was killed after being arrested by "morality police" in Tehran.
Her death has since sparked anger over several issues, including the restrictions on personal freedoms and strict rules regarding women's dress, as well as the vital and economic crisis that Iranians are suffering, not to mention the regime's strict laws and its politics and religious composition in general.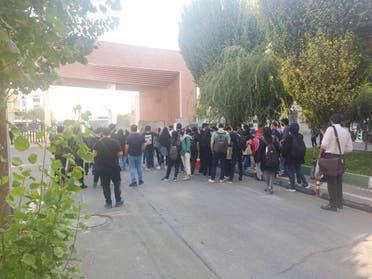 From the Tehran protests (archived by Associated Press)
Meanwhile, the security forces violently confronted the demonstrators, resulting in the killing of about 400 demonstrators, including 47 minors, according to the human rights activists' news agency Hrana. At least 14,170 people, including 392 students, were arrested during these protests.

#uprising #Iran #overthrow #government