The Kiev secret service tried to blow up a gas pipeline to Turkey
In a renewed exchange of accusations between the two countries, Russia accused Ukraine's secret service of involvement in the bombing of a gas pipeline bound for Turkey.
Today, Thursday, the Russian Federal Security Service announced that it had foiled a Ukrainian bomb attack gas pipeline extended to Turkey. In a statement, he confirmed that the special security forces had managed to thwart a "terrorist" attempt by the Ukrainian secret service to blow up the South Stream gas pipeline running from Russia to Turkey," according to a report by Sputnik. .
He also explained that the authorities arrested Russian citizens in the Volgograd region who were involved in preparing the attack, as they were found in possession of four magnetic mines, four kilograms of plastic, delayed detonators, a sum of money and means of communication with correspondence with the Ukrainian Side.
Targeting Nord Stream 1 and 2
On the 18th of this month, the prosecutor in charge of the investigation in Sweden revealed that the Nord Stream 1 and 2 gas pipelines had been bombed in an act of sabotage in the Baltic Sea last September.
Nord Stream (France Press archive)
At the end of September, four gas leaks were discovered on gas pipelines, all in international waters. But two of them are in the Swedish economic zone and two in the Danish region.
vandalism
Investigators said initial underwater inspections increased suspicions of sabotage as explosions preceded the leak.
In late October, the Nord Stream consortium, in which Russia's Gazprom is the majority shareholder, sent a Russian-flagged civilian ship to the Swedish region for an inspection.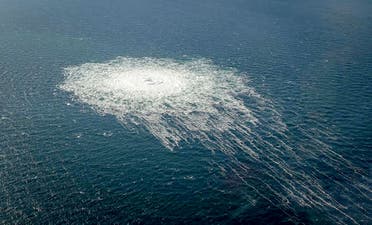 Gas Leak at Nord Stream (AFP)
Nord Stream was allowed in November to inspect gas pipelines in the Danish region, where a further investigation is taking place.
It is worth noting that the gas issue has become the focus of the conflict since the start of Russia's military operation on the country of its western neighbor last February, especially as Russia supplies Europe with an average of two million barrels of crude oil a day, and about 1.8 million barrels a day on derivatives. Moscow is the third largest oil producer in the world, after the United States and Saudi Arabia, with an average daily oil output of 11 million barrels.

#Kiev #secret #service #blow #gas #pipeline #Turkey