The continuation of the health emergency in America.. and the reason is Corona
Two officials in US President Joe Biden's administration announced Friday that the United States will maintain a public health emergency for the Covid-19 pandemic This will allow millions of Americans to get free testing, vaccines and treatment through at least April next year.
One of the officials said the possibility of an increase in coronavirus infections over the winter and the need for more time before transitioning from the public health emergency were the factors that contributed to the decision not to end the state of emergency in January.
The public health emergency was first declared in January 2020 at the start of the COVID-19 pandemic and has been renewed every three months since then.
Corona test center in New York – Reuters
But the government began signaling last August that it plans to phase it out in January.
The US Department of Health and Human Services has promised to give states 60 days' notice before the end of the state of emergency, which would have expired Friday had it not planned to extend it again in January.
The second official said the ministry failed to provide such notification.
Infections increase in winter
For his part, one of the officials said health experts thought it was likely that Covid-19 infections would increase in the United States this winter.
"We could see a spike in mid-January… this is not the moment when we want to end the public health emergency," he added.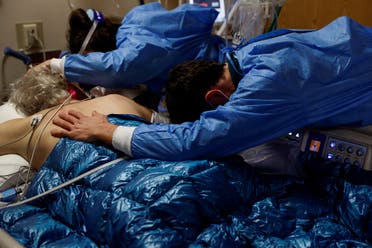 A COVID-19 patient in a California hospital – Reuters
In addition, the US Centers for Disease Control and Prevention said daily coronavirus infections had fallen to an average of more than 41,284 as of November 9, but 335 people died from it every day.
The University of Washington's Institute for Health Metrics and Evaluation said in an Oct. 21 analysis that daily infections in the United States are expected to slowly increase to nearly 70,000 by February and deaths are expected to be around the same level.

#continuation #health #emergency #America. #reason #Corona