Russia committed war crimes in Ukraine
At a time when Moscow is accusing the Ukrainian armed forces of getting involved war crimes Recently, the US State Department made similar allegations against captured Russian soldiers.
According to an Al-Arabiya/Al-Hadath correspondent, the US State Department said in a briefing Monday that Russia has carried out mass executions in Ukraine.
It also reiterated its support for investigating incidents of attacks on civilians and their deportation in Ukraine, citing previous allegations of forced deportation by Kyiv of civilians in conflict zones.
Zelensky accuses
Last Sunday, Ukrainian President Volodymyr Zelenskyy accused Russia of committing "hundreds of war crimes" in the southern Kherson region.
While he said that "investigators documented more than 400 Russian war crimes and found the bodies of civilians and soldiers," according to local agency Ukrainform.
President of Ukraine Volodymyr Zelenskyy (Archives – France Press)
On the other hand, Russia announced last week that Ukrainian soldiers executed more than 10 Russian prisoners of war and accused the West of ignoring this crime.
Kyiv later responded to this allegation, indicating that it would investigate these "alleged violations".
"self defense"
The Human Rights Commissioner of Ukraine's Parliament dismissed the allegations on Sunday, saying that "the filmed incident shows Ukrainian soldiers defending themselves against the Russians, who pretended to surrender," as he put it.
Mediator Dmytro Lubinets said that "excerpts from the video," which Moscow said were evidence the soldiers were executed, actually showed the Russians "recourse to a feigned surrender… and committing a war crime by doing so." opened fire on Ukrainian forces".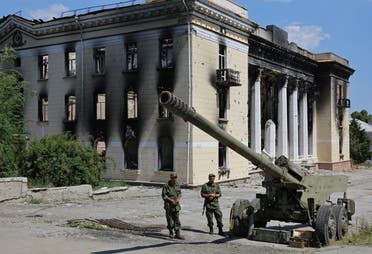 Ukrainian army in Lugansk – Reuters
A series of videos that appeared on social media last week sparked debate over whether Ukrainian forces committed war crimes or acted in self-defense as they attempted to capture a group of Russian soldiers, who were then killed.

#Russia #committed #war #crimes #Ukraine