Republicans warn Biden: We will retake Congress
Republicans appear confident of winning Tuesday's midterm elections. They promised during election ralliesOn Sunday night, he sent a "warning" to President Joe Biden, implying that they were close to regaining Congress.
In contrast, Democrats still insist they are doing well.
Both parties have used Biden and former President Donald Trump to rally supporters and voters in Tuesday's election, which the incumbent sees as a "defining" moment for American democracy.
Following Saturday's bipartisan rallies in Pennsylvania, Biden visited New York and Trump visited Miami yesterday.
defensiveness
But although both sides are expecting a win, the numbers are different.
Recent polls have shown that Democrats are on the defensive, particularly as they struggle to convince voters of the everyday concerns central to this election, and there is no evidence that Biden's warnings about the threat have ever turned the tables on democracy in their favor.
On the other hand, polls showed Republicans are ahead in the House race and gaining momentum in major Senate seat disputes as voters try to shake off frustration over the highest inflation in four decades and rising illegal immigration.
In that regard, the Republican National Committee chairman confirmed that Republicans have "good momentum" that will allow them to regain control of the Senate and House of Representatives, which, if that happens, will hamper Biden's work in the second half will his tenure.
Great night
Senator Rick Scott, chairman of the Republican Senate National Committee, spoke of an expected "big night" in the House and Senate.
His fellow Republican governor Glenn Youngkin of Virginia told ABC News' This Week that his camp is now "one that offers sensible solutions to pressing problems like high inflation and crime." "It would be a wake-up call for President Biden," he added.
While Democratic Congressman Sean Patrick Maloney saw his party would retain the majority, "he found that Biden was wrongly blamed for inflation while receiving little credit for achievements like job growth, according to AFP.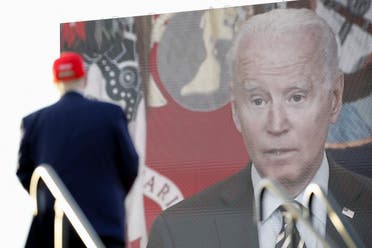 Trump spoke from Miami yesterday, with a large picture of Biden next to him (Reuters)
Punitive vote
It is worth noting that the midterm elections in the United States are usually viewed as a referendum on the country's president, whose party tends to lose seats in Congress, especially when his support rating, as is the case with Biden today, is less than 50 amounts to %.
There is also an indication of the support of the president's voters, and others as well, to the option of continuing the policies he is pursuing, whether internal or external, or punishing him through the ballot box.
There is no doubt that the answer will come in the coming days, after the votes of Americans who will vote tomorrow to renew all seats in the House of Representatives and more than a third of the seats in the Senate, in addition to 30 out of 50 governors .

#Republicans #warn #Biden #retake #Congress