Putin celebrates the "Annunciation" at Christmas … and Kyiv congratulates him with the "mortar"
"Prayer, reverence and candles" in the light of the ceasefire with Ukraine. This is how Russian President Vladimir Putin celebrated Christmas.

In the "Annunciation," one of the Kremlin's cathedrals in Moscow, President Putin attended the Christmas Eve mass of the Orthodox community, as Orthodox Christians in Russia celebrate Christmas on January 7 every year.
Last year, Putin attended Christmas mass at St. Nicholas Church on the island of Lipno in western Russia, while two years before him he visited the Transfiguration of the Lord of All Guardians Cathedral in St. Petersburg.
Russia armistice

Putin had ordered a ceasefire along the frontline in Ukraine from January 6 12:00 Moscow time to January 7 24:00 to allow citizens of Russia and Ukraine to conduct Christmas rituals and revival of the liturgy .
The Kremlin said in a statement: "Due to the fact that a large number of Orthodox Christian citizens live in the areas of military operations, we call on Ukraine to declare a ceasefire and give them the opportunity to attend Christmas Eve and services on the day." the birth of Christ."
Congratulations on the "mortar"
However, the Kiev authorities rejected Russia's ceasefire initiative, and bombing continued even after the Russian ceasefire came into effect.
And Ukraine's Defense Ministry said in a statement its soldiers are still launching attacks, particularly in the Donetsk region in the east of the country. In this way they congratulated Russia on the approaching Christmas.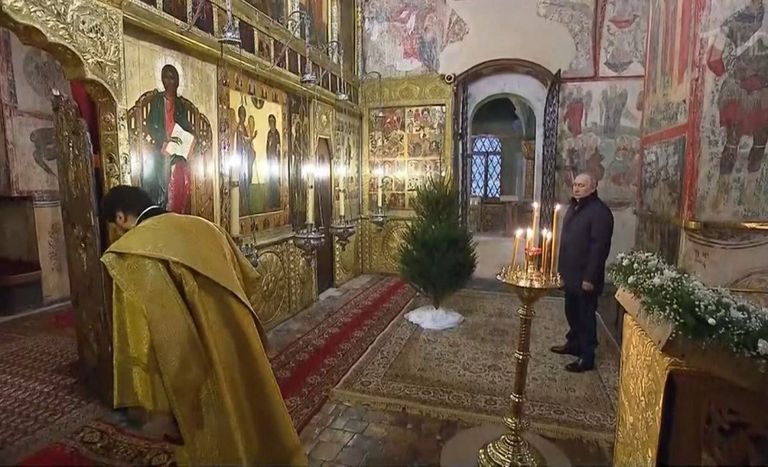 The ceasefire was not honored by Ukraine, as confirmed by the shelling of Russian sites in the small town of Bakhmut in the east of the country with 120mm mortars, which Ukraine's Defense Ministry described as a "gift".
A spokesman for the Russian Defense Ministry in Moscow, Igor Konashenkov, confirmed that while the Russian military wants to honor the ceasefire, Ukraine is continuing to fire artillery shells.
Konashenkov added that the Ukrainian army also launched mortar and artillery attacks in the south, near the village of Belohorivka in the Luhansk region.
He pointed out that "Russian forces responded with fire, paralyzing the movement of sites used by the Ukrainian army to launch rockets."

#Putin #celebrates #Annunciation #Christmas #Kyiv #congratulates #mortar