North Korea threatens regional and international security
Today, Sunday, the Group of Seven called on the UN Security Council to take action after the launch North Korea's ICBM.
"North Korea's ballistic missile launch threatens regional and international security," said a statement from foreign ministers of the group that includes (Canada, France, Germany, Italy, Japan, Britain and the United States).
While the UN Security Council said yesterday, Saturday, that it will meet tomorrow, Monday, to discuss the situation.
The European Union also called on the UN body to "react appropriately" and, according to reports in the "Agence France Presse", condemned "a dangerous, illegal and irresponsible act".
accompanied by his daughter
North Korean leader Kim Jong Un oversaw the launch of an ICBM, "Hwasong-17", accompanied by his daughter, whom he was introducing to the world for the first time, in a message released by the North Korean official news agency on Saturday.
The rocket flew to a "maximum altitude of 6,040.9 km and covered a distance of 999.2 km," the news agency said, before landing "exactly in the specified area" in the East Sea or the Sea of ​​Japan.
Since Kim announced in September that North Korea had formally instituted a policy that would render its nuclear status "irreversible," Washington has stepped up regional security cooperation, including through conducting joint military exercises, and is exploring ways to protect the country offers, improve Seoul and Tokyo.
Seoul and Washington in particular conducted the largest joint air exercises in their history at the end of October/beginning of November.
In connection with this, the South Korean chiefs of staff said in a statement: "South Korea and the United States on Saturday conducted a joint air exercise with the US Air Force's B-1B strategic bomber, which was deployed to the Korean Peninsula."
But North Korea sees these demonstrations of power as a dress rehearsal for an invasion of its territory or an attempt to overthrow the regime.
North Korean leader oversees intercontinental ballistic launch – Reuters
To the strongest weapons
The range and altitude estimates provided by Seoul and Tokyo on Friday are slightly lower than those of Pyongyang's March 24-launched ICBMs and appear to be the most powerful test North Korea has ever conducted.
North Korea said on March 24 that it had tested the Hwasong-17 – one of Pyongyang's most powerful weapons and dubbed a "monster missile" by military analysts – but Seoul has cast doubt on that claim.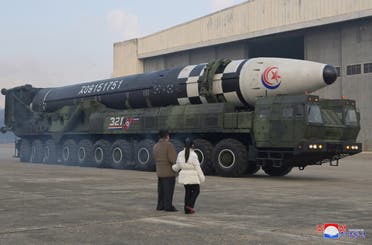 North Korean leader monitors an intercontinental ballistic launch with his daughter – Reuters
Unprecedented series
In early November, Pyongyang launched an unprecedented series of missile tests, one of which landed near South Korean territorial waters.
On November 2 alone, 23 North Korean missiles were fired, more than all the missiles fired in 2017, when the North Korean leader and then-US President Donald Trump exchanged threats of a nuclear response.
In September and October, Pyongyang fired a barrage of missiles, one of which flew over Japan for the first time in five years.

#North #Korea #threatens #regional #international #security