Life sentences for Russians and Ukrainians convicted in the 2014 Malaysia Airlines crash
Dutch judges on Thursday found three men guilty of murder for their role in the massacre A Malaysian Airlines plane shot down 2014 because of Ukraine, and they were sentenced to life imprisonment, while a fourth man was acquitted.
Flight MH17 was shot down over eastern Ukraine on July 17, 2014, killing 298 passengers and crew.
"Only the maximum sentence is appropriate to hold the suspects accountable, who caused so much suffering to so many victims and their families," said presiding judge Hendrik Stenhaus in a summary of their judgment.
Relatives of the victims stood in tears in the courtroom as Stenhouse read the verdict.
Relatives of several victims in court today
And the three convicts are two former KGB agents, They are Igor Girkin and Sergey Dubinsky, as well as the Ukrainian separatist leader Leonid Kharchenko.
A fourth defendant, Oleg Bulatov of Russia, was acquitted of all charges against him.
Stenhouse explained that the defendants do not enjoy immunity from prosecution because they are not members of the Russian armed forces.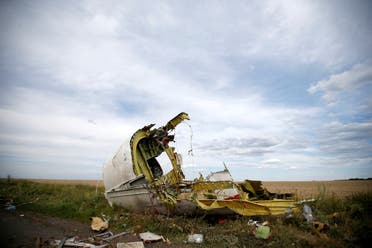 Malaysian plane wreckage in Donetsk
Stenhouse added, "There is no reasonable explanation" other than that the plane was shot down by a BUK missile system.
For their part, representatives of the victims said the verdict was a milestone in the case, although the suspects are still on the run. They are all believed to be in Russia, which will not extradite them.
Moscow denies any involvement responsible for shooting down the plane.
Russia today denounced a "political" verdict in the Malaysia plane crash case. Russia's Foreign Ministry said in a statement that "the course and outcome of the court case indicate that (the decision) is based on a political matter," considering that the "trial in the Netherlands" was almost "one of the most scandalous ( trials) in the history of trials."

#Life #sentences #Russians #Ukrainians #convicted #Malaysia #Airlines #crash