Iran planned to murder and kidnap 10 citizens
This was announced by the British secret service on Wednesday Iran She plotted the murder and kidnapping of at least 10 British citizens whom she accused of being "enemies of the regime".
Ken McCallum, director-general of MI5, said in his annual address on the threats facing Britain, according to The Telegraph, that "enemy Iranian intelligence agencies" have moved to carry out terrorist attacks on British soil.
"direct threat"
While adding that the current wave of protests in Iran has prompted the regime to "recourse to violence to silence critics," he added that "Iran poses a direct threat to the UK through its hostile intelligence services." .
As he explained: "The most extreme of these include ambitions to kidnap or even kill British or UK residents who are seen as enemies of the regime."
He continued, "We've seen at least 10 potential threats like this since January."
Summon the Iranian chargé d'affaires
mention that British government On November 11, the Iranian chargé d'affaires was called to London to protest death threats against UK-based journalists.
"I subpoenaed the Iranian chargé d'affaires after journalists working in the UK faced death threats from Iran," Secretary of State James Cleverly wrote on Twitter.
He added: "We do not tolerate threats and intimidation from abroad towards people living in the UK."
death threats
This comes after two Iranian journalists working for the London-based Persian-language TV channel Iran International received death threats from Tehran, the channel's ownership group said on November 7.
"The two Iranian-British journalists working in the UK have received death threats from the Revolutionary Guards," Volant Media wrote in a statement. It also clarified that the two journalists had received "credible warnings and threats".
Clashes between Iranian riot police and protesters in Tehran (France Press archives)
It also revealed that the threats prompted London Police to "officially inform the two journalists that these threats pose an imminent, credible and grave threat to their lives and family members". London Police declined to comment.
Hundreds killed and thousands arrested
The channel reported on the anti-regime protests in Iran after the death of young Kurdish woman Mahsa Amini on September 16.
It is noteworthy that since the killing of 22-year-old Amini three days after her arrest by vice squads while visiting Tehran with her younger brother for allegedly violating the country's strict dress code, demonstrations have not subsided.
Her death sparked three years of unprecedented protests led mainly by Iranian youth.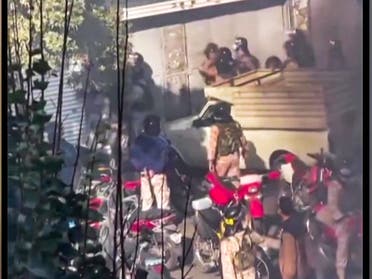 On the arrest and persecution of protesters in Tehran (France Press archives)
Meanwhile, the security forces violently confronted the protesters and killed 342 people, including 43 children and 26 women, on Wednesday, according to the Iranian human rights organization.
According to the human rights activist news agency Hrana, no fewer than 14,170 people, including 392 students, were arrested during these protests in 136 cities and communities and at 134 universities.

#Iran #planned #murder #kidnap #citizens