Half of the energy infrastructure was damaged by the Russian bombing
About half of Ukraine's energy infrastructure has been "out of order" after Russia's strikes since early October, according to Ukrainian Prime Minister Denis Shmygal, at a time when Kyiv called for "additional support" from its European allies on Friday.
This came as Russia accused Ukraine of "brutally" executing more than 10 of its military personnel after capturing them and "thewar crimes".
On Friday, Ukrainian President Volodymyr Zelenskyy dismissed the idea of ​​approving a "short-term ceasefire" with Russia, saying it would only exacerbate matters.
"Russia is now looking for a brief ceasefire and respite to restore strength," Zelenskyy said in a speech broadcast on the Halifax International Security Forum. "This could be seen as the end of the war, but such respite will only be lead to an aggravation of the situation."
He added: "A truly genuine, lasting and genuine peace can only be achieved through the complete destruction of Russian aggression."
The White House earlier on Friday reiterated that only Zelenskyy could agree to the start of negotiations between Ukraine and Russia, dismissing any notion of US pressure on Kyiv in that direction.
Ukraine's power grid is under fire
More than a month and a half after the rocket and suicide drone bombings began, damage to Ukraine's energy grid appears to be significant.
Ukrainian Prime Minister Denys Shmygal said that "almost half" of Ukraine's energy-related infrastructure is "out of order".
In a joint press conference in Kyiv with European Commission Vice-President Valdis Dombrovskis, he called on the European Union to provide "more support" in the face of this situation, in particular "to buy additional volumes of gas. "
And at the beginning of winter, many Ukrainians will experience large or complete power outages at the time of the first snowfall, Thursday, in the country.
On Friday, the national electricity company Okrinergo said that "across Ukraine rationing will be imposed for several hours during the day" after Zelenskyy announced on Thursday evening that "tens of millions of Ukrainians" had been deprived of electricity.
On Thursday, Ukraine's Human Rights Commissioner Dmytro Lubinets said the "scale" of torture in Kherson, the southern city liberated a week ago, was "appalling".
According to Ukrainian Presidential Office official Kyrilo Tymoshenko, who was visiting the region, "the Russians not only killed and booby-trapped, they stole our cities."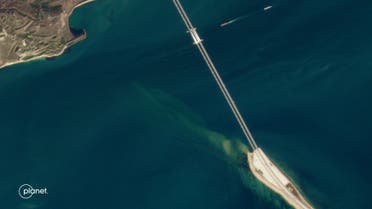 The Crimean bridge linking Russia to the peninsula (France Press archives)
Fortification of Crimea
And after the Ukrainian army recaptured part of the Kherson region last week, it seemed like Kyiv and Moscow were looking to consolidate their positions as winter approached.
In this regard, Moscow announced that it is carrying out fortification works on the Crimean peninsula, which it annexed, while the Russian withdrawal from Kherson has allowed the Ukrainians to place their guns closer to the area that has been repeatedly attacked in recent months.
"We monitor fortification works on the territory of Crimea to ensure the safety of its residents," said Sergei Aksyonov, the governor appointed by Moscow after the annexation of the Ukrainian peninsula.
Since annexing Crimea in 2014, Moscow has considered the peninsula part of its territory unrecognized by the international community. Kyiv has repeatedly stressed its intention to regain it in recent months.
There is a train between Kyiv and Kherson
For its part, the National Railways Company on Friday announced the reopening of the train line between the capital Kyiv and Kherson, symbolically after the city was restored a week ago.
"On Friday we will start the first train from Kyiv to Kherson," company spokeswoman Natalya Torchak told AFP.
On the spot, the Russian army announced that it had occupied the town of Optina in the Donetsk region of eastern Ukraine.
In Poland on Friday, Ukrainian experts were working at the site where a rocket hit on Tuesday to take part in the international investigation into the cause of this incident, Ukrainian Foreign Minister Dmytro Kuleba said on Twitter.
Kyiv and Moscow are exchanging accusations of being responsible for the attack, while Warsaw said the missile that killed two people on the border with Ukraine was used by Ukrainian defences.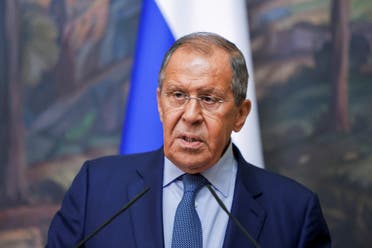 Russian Foreign Minister Sergei Lavrov (AFP)
Poland refuses entry to Lavrov
Amid these developments, Poland, which is organizing the ministerial meeting of the Organization for Security and Cooperation in Europe in early December, has barred Russian Foreign Minister Sergey Lavrov from entering its territory, according to the organization's president on Friday.
"We expect the Russian Federation to choose the members of its delegation in accordance with the applicable regulations," explained a source in this rotating annual presidency, which is currently held by Warsaw, "so as not to include individuals subject to EU sanctions as a result of Russia illegal aggression against Ukraine on February 24, including the minister." Lavrov.
The Polish presidency of the Organization for Security and Cooperation in Europe said it received a letter of protest from the Russian delegation after the decision.
On Friday, Hungarian Prime Minister Viktor Orban called EU sanctions on Russia a "step towards war" and stepped up his criticism of Brussels' strategy, saying it was "dangerous".
"Anyone who intervenes economically in a military conflict takes a stand," said the nationalist leader in his traditional interview with a pro-government radio station. "We are gradually slipping towards war," he said, expressing concern about the backlog in measures taken to punish Russia for attacking Ukraine.

#energy #infrastructure #damaged #Russian #bombing