Four people were killed in an al-Shabaab attack on a hotel in Mogadishu
At least four people were killed in the siege of the famous Villa Rose hotel in the capital Mogadishu, which was occupied by gunmen from the Somali youth movement, a security official told AFP news agency on Monday.
"The armed terrorists are trapped in a room of the building and the security forces are in the process of ending the siege," security official Mohamed Darum said. "So far we have confirmed that four people have been killed," without providing their identities. "Many people, including government officials, were injured," he added.
Extremists have been holed up in the Hotel Villa Rose, located in a safe central area of ​​the capital, since Sunday.
Elements of the youth movement (archive)
In the early hours of the morning today, explosions and gunfire were heard around this hotel, which is normally frequented by parliamentarians and senior officials and is just a few blocks from Somali President Hassan Sheikh Mahmoud's office.
National Police spokesman Sadiq Dudish said in a statement on Sunday evening: "A group of al-Shabaab fighters attacked a commercial hotel in the Bondir area on Sunday evening and the security forces are trying to eliminate them."
Many civilians and politicians were rescued and evacuated from the hotel on Sunday evening.
Al-Shabaab, an extremist group linked to al-Qaeda that has been trying to overthrow Somalia's central government for 15 years, claimed responsibility for the attack.
On its website, the Villa Rose Hotel is described as "the safest place to stay in Mogadishu" with metal detectors and a high wall.
The African Union Forces in Somalia "ATMIS" condemned the attack and commended on Twitter "the Somali security forces for their quick response to avoid further casualties and damage to property".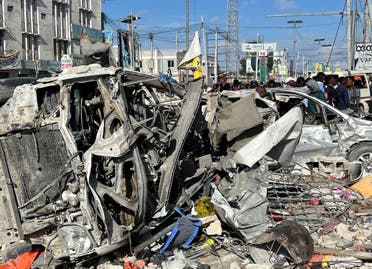 An explosion occurred in Mogadishu at the end of October (archive)
This new attack comes at a time when the newly elected President of Somalia has decided to do soThey are waging "total war" against Al-Shabaab.
has aThe Somali army is being restoredWith the support of local clans and "Atmis" and with American air support, they took control of the Hiran region and large areas in the center of the country.
But the extremists They responded with a series of bloody attacks, This confirms their ability to hit the heart of Somali cities and military installations.

#people #killed #alShabaab #attack #hotel #Mogadishu