Erdogan urges Zelenskyy to resume ceasefire talks with Russia
Turkish President Recep Tayyip Erdogan called on his Ukrainian counterpart Volodymyr Zelenskyy on Friday Revival of ceasefire talks with Russia.
The Turkish presidency said that in a phone call with Zelenskyy, Erdogan discussed recent developments regarding the Russo-Ukrainian war and the grain corridor, and made it clear that including the ceasefire issue in the negotiation track "will be in everyone's interest."
The presidency added that Erdogan thanked his Ukrainian counterpart for his "constructive stance" on the matter Extension of Istanbul Grain Export Agreement mediated by the United Nations.
A ship carrying grain from Ukraine crosses the Black Sea
Erdogan told Zelenskyy that both the grain export deal and the prisoner exchange between Russia and Ukraine are positive and that "expanding this agreement at the negotiating table" would benefit all sides.
Yesterday the Kremlin said the plight of civilians in Ukraine, who are facing power outages after Russia's mid-winter bombardment of energy infrastructure, was a "result" of Kiev's refusal to negotiate with Moscow.
"This is the result of the Ukrainian side's unwillingness to solve the problem, to start negotiations and their refusal to look for a common ground," Kremlin spokesman Dmitry Peskov said when asked about the power outages facing millions of people are Ukrainians.
He also accused Ukraine of changing its positions on peace talks between the two countries Open negotiations with her are not planned. He urged Washington to urge Kyiv to engage in diplomacy.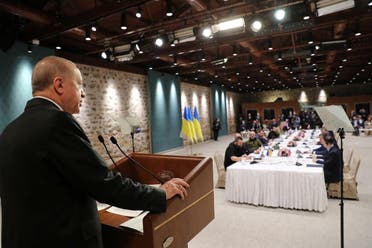 Direct talks between Russians and Ukrainians in Turkey last March
Peskov said in a conference call with reporters that the United States is in a position to heed Russia's concerns and could encourage Kyiv to return to the negotiating table if it so wishes.
He added that Ukraine has changed its position on readiness to negotiate with Moscow several times during the nearly nine-month conflict, which cannot be relied on.
Peskov told reporters, "They first negotiate, then they refuse negotiations, then they pass a law banning any kind of negotiations, and then they say they want negotiations, but public negotiations."
"That's why open negotiations are hard to imagine. One thing is certain: the Ukrainians don't want any negotiations."

#Erdogan #urges #Zelenskyy #resume #ceasefire #talks #Russia