Cheers against Khamenei during funeral in Iran.. and Tehran restricts internet
Today, Friday, reports from Iran suggest that authorities have shut down internet service in several cities or severely restricted access to it, Iran International website reported.
It comes as protesters in Iran today chanted slogans denouncing the regime during the funeral of a boy whose family said he was killed by security forces, a human rights group and an observatory said.
Hundreds of people took to the streets of the city of Iza in southwestern Iran during the funeral of about 10-year-old Kian Pervalak, according to video recording released by the Norway-based Human Rights Organization in Iran and the 1500 Photographs Observatory.
A tweet about the murder of the child Kian Pervalak
During the funeral, the boy's mother said that Kian was wounded by bullets fired by security forces on Wednesday, noting that Iranian officials emphasized that he was killed in a "terrorist" attack by an extremist group.
In video released by 1500 Photographs, his mother can be heard saying during the ceremony: "Listen to me how the shooting took place so they can't say he was killed by terrorists because they are lying."
She added: "Maybe they thought we were going to shoot or something and they rained bullets on the car… Plainclothes cops shot my kid.
Criticizing the official version of events, demonstrators chanted: "Basij, Sepah… you are our ISIS," according to a recording released by the "Human Rights Organization in Iran."
The Basij are forces associated with the Revolutionary Guards, while Sepah is another name for the Revolutionary Guards.
In another recording released by the Observatory, "1500 Photographs," protesters can be heard chanting "Tod Khamenei," in reference to Supreme Leader Ali Khamenei.
Opposition media sites outside Iran said another minor, Sepehr Maqsudi, aged 14, was shot dead in Iza on Wednesday in similar circumstances.
Funerals have often become demonstrations, a movement The protest that began after the young woman's death Mahsa Amini on September 16 after being stopped by Tehran's vice squad for not following a strict dress code.
For its part, Iranian state television today reported that seven people were buried, including a nine-year-old boy, adding that they were Killed by "terrorists" KThey ride motorcycles.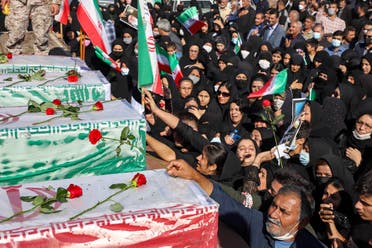 From the burial of some of those recently killed in the city of Iza
The Fars news agency, which is linked to the Revolutionary Guards, quoted Ahvaz province governor Sadeq Khalilian as saying "foreign elements" were behind what happened.
For his part, Hadi Ghaemi, director of the Center for Human Rights in Iran based in New York, said: "Kian Pervalak, 9, and Sepehr Maqsudi, 14, are among the at least 56 children she killed." Security forces intent on crushing the 2022 revolution in Iran".
In a similar vein, the "Human Rights Organization in Iran" said that in the city of Tabriz (North) during the funeral of Aylar Hakki, a medical student who activists say was killed by falling from a building, slogans condemning the regime are being launched became. The security forces are to blame.

#Cheers #Khamenei #funeral #Iran. #Tehran #restricts #internet