Britain summons Iranian chargé d'affaires for 'threatening journalists'
Britain's Foreign Office said on Friday that the UK had subpoenaed the Iranian chargé d'affaires over threats by Iranian security forces against journalists in Britain, according to Reuters.
This comes as tensions between London and Tehran have escalated in recent days amid a report by the British capital-based broadcaster Iran International revealing that staff at the channel have been pressured by threats from the Iranian regime.
Last Tuesday, Iranian Security Minister Ismail Khatib threatened Britain that it would "pay the price for its actions aimed at destabilizing security in his country," he claimed.
Punishment of senior security officials
It is noteworthy that on October 10, Britain announced the imposition of Sanctions against senior Iranian security officialsThe so-called "moral police".
She also explained that the "religious police" have used threats of arrest and violence to control what Iranian women wear and to censor their behavior in public places.
Freeze the assets of the commander of the Basij troops
She also announced a travel ban and asset freeze for the commander of the Basij forces, Gholam Reza Soleimani.
"These sanctions send a clear message to the Iranian authorities that Western countries will hold you accountable for your oppression of women and girls and the horrific acts of violence against the people," Secretary of State James Cleverly said in a statement.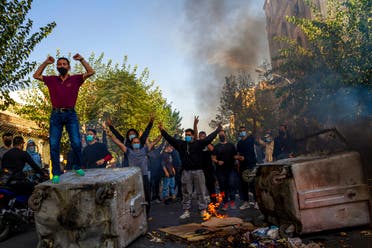 From the protests in Tehran (File photo from Associated Press)
Light the fire of anger
It is noteworthy that the demonstrations have not abated since Amini's death on September 16, three days after her arrest by the vice squad and her subsequent transfer to a hospital in Tehran Iran.
Her death has since fueled anger over several issues, including restrictions on personal liberties and strict rules regarding women's dress, as well as the vital and economic crisis Iranians are facing, not to mention the harsh laws that govern the regime imposed, and its political and religious composition in general.
Meanwhile, security forces and Basij used violence against the protesters, killing hundreds of them. The human rights activists' news agency Hrana said 314 demonstrators were killed in the riots, including 47 minors. At least 14,170 people, including 392 students, were arrested in the protests, which took place in 136 cities and towns and 134 universities.

#Britain #summons #Iranian #chargé #daffaires #threatening #journalists