Before the withdrawal, Russia destroyed the infrastructure of Kherson
Ukrainian President Volodymyr Zelenskyy announced Saturday that Ukrainian forces have regained control of nearly 60 cities in the country. Kherson region.
"Before fleeing Kherson, the Russians destroyed all basic infrastructure – communications, water supply, heating and electricity," he added, noting that the region had suffered major damage.
"We are overjoyed," said the Ukrainian president, adding that 2,000 explosive devices had been defused.
demining
In addition, Ukrainian police on Saturday began demining Kherson the day after it was salvaged, documenting the "crimes" attributed to Russia in the southern city, the loss of which is a major setback for the Kremlin.
About 200 police officers have been deployed in Kherson to set up road checkpoints and "document the crimes of the Russian occupiers," national police chief Igor Klimenko said in a statement.
He also alerted city residents to the presence of mines left behind by Russian forces and urged them to "move with caution." According to Klimenko, a police officer was injured during an operation to evacuate a building in Kherson.
painful blow
It is noteworthy that the Russian Defense Ministry announced on Friday that it had completed the withdrawal of its forces from Kherson and their withdrawal to the west bank of the Dnieper River, stressing that it had not suffered any loss of life or equipment during the withdrawal.
This withdrawal dealt a painful blow and a major setback to the Russian army, which is the first major Ukrainian city since the conflict broke out on February 24.
In addition, together with Donetsk, Lugansk and Zaporizhia, it forms the four regions announced by the Kremlin at the end of September 2022.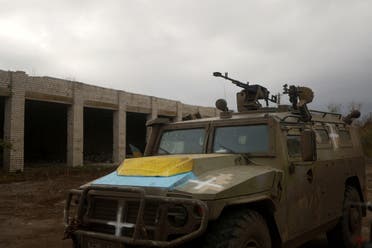 A tank covered by the Ukrainian flag in Kherson – Reuters
Its geographic location is also of particular importance, as the region lies on the borders of the Dnipro-Petrovsk and Nikolaev regions and has a land border with Crimea to the south, while overlooking the Black Sea to the south-west and the Sea of ​​Azov to the south-east.
This is the third major Russian withdrawal since the Russian operation began on February 24. Russia was forced to abandon its capture of Kyiv in the spring in the face of fierce Ukrainian resistance, before being expelled from the entire Kharkiv region (northeast) in September.

#withdrawal #Russia #destroyed #infrastructure #Kherson