Because of Turkey and NATO, Sweden changed its attitude towards the Kurdish factions
Sweden's Foreign Minister Tobias Bellstrom said on Saturday his country should "distance" from the Kurdish People's Protection Units (YPG) days before the Swedish prime minister's visit to Turkey, hoping that will be the case Ankara confirms the Scandinavian country's membership in the North Atlantic Treaty Organization (NATO).
"We believe there are doubts and issues related to those distorting our relations with Turkey," Billstrom said in an interview with Radio Zaffaria.
Since the Russian military operation in Ukraine, Sweden and Finland have been trying to join NATO.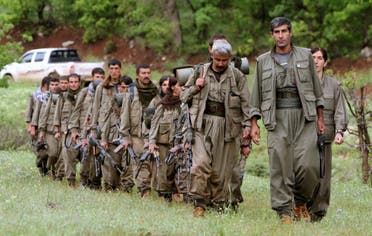 Members of the Kurdistan Workers' Party (PKK)
But Turkish President Recep Tayyip Erdogan, who is scheduled to receive Swedish Prime Minister Ulf Christerson on Tuesday, has been opposed to the two countries joining NATO since May.
Turkey accuses the two countries of harboring Kurdistan Workers' Party (PKK) and People's Defense Units (YPG) activists, which Ankara classifies as "terrorist" organizations.
To circumvent Turkey's objections, the three countries signed a memorandum of understanding on the sidelines of the NATO summit in Madrid in June that dealt specifically with extradition requests.
While Sweden has previously expressed support for the People's Defense Units (YPG) and its political arm, the Democratic Union Party (PYD), the new government appears to have changed tack.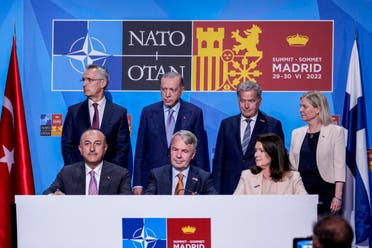 The signing of the agreement between the three countries on the sidelines of the NATO summit in Madrid last June
Tobias Bellstrom said that the connection between these two organizations and the Kurdistan Workers' Party (PKK), classified as a terrorist organization by the European Union, is very strong.
To date, 28 countries – out of 30 members – in NATO have ratified the accession of Sweden and Finland, and granting membership requires the approval of all member states.
And Turkey and Hungary areThe only two countries that have not ratified So far the membership of Sweden and Finland.
Billstrom added in his interview today: "The primary goal is Sweden's membership in NATO".

#Turkey #NATO #Sweden #changed #attitude #Kurdish #factions