Around 200 employees work in Cherson
Ukrainian authorities announced that police, TV and radio stations have returned to the city Kherson south after the withdrawal of Russian forces from it.
The head of Ukraine's national police, Igor Klimenko, said in a Facebook post on Saturday that about 200 police officers are working in the city, setting up checkpoints and documenting evidence of "possible war crimes," he said.
He added that police teams are also working to identify and neutralize duds and that an explosives expert was wounded while clearing mines from an office building on Saturday, according to the Associated Press.
"humanitarian catastrophe"
For its part, the communications surveillance authority of Ukraine said that national television and radio broadcasts had resumed in the city.
An adviser to the mayor of Kherson, Roman Holovnya, said humanitarian aid and supplies had arrived from the neighboring Mykolayiv region. On Ukrainian television, he described the situation in the city as a "humanitarian catastrophe" and pointed out that the remaining residents lack water, medicine and food.
From Kherson (archive of AFP)
big setback
Notably, the Russian Defense Ministry announced on Friday that it would withdraw its armed forces from… Kherson It withdrew to the west bank of the Dnipro and confirmed that no lives or equipment were lost during the retreat.
This withdrawal dealt a painful blow and a major setback to the Russian army, which is the first major Ukrainian city since the conflict broke out on February 24.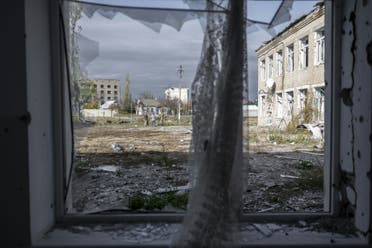 From Kherson (archive of AFP)
In addition, together with Donetsk, Lugansk and Zaporizhia, it forms the four regions announced by the Kremlin at the end of September 2022.
Its geographic location is also of particular importance, as the region lies on the borders of the Dnipro-Petrovsk and Nikolaev regions and has a land border with Crimea to the south, while overlooking the Black Sea to the south-west and the Sea of ​​Azov to the south-east.

#employees #work #Cherson