An American report confirms the existence of "hundreds of missing people" in Kherson
Yale University researchers concluded in a report supported by the US State Department that hundreds of people have been arrested or are missing The Ukrainian Kherson region during its period of control Russian, and that dozens may have been tortured.
The U.S. State Department said in a statement accompanying the report, "Russia must halt these operations and withdraw its forces to end an unnecessary war it cannot and will not win — no matter how despicable and abominable its methods."
The report documents the arrest and disappearance of 226 people in Kherson between March and October, a quarter of whom are said to have been tortured and five died in detention or shortly thereafter.
The report said that half of those detained were "apparently not released" and their fate has not been known since The withdrawal of Russian forces from Kherson On 11.11.
Russia last week withdrew its forces from an enclave on Ukraine's west bank of the Dnipro River, which includes the Kherson region, the only regional capital it has controlled since its military operation in Ukraine began in February.
Ukrainian army yesterday in Kherson
The Human Research Laboratory at the Yale School of Public Health, which compiled the report, is a partner in a State Department-funded program called Conflict Monitor, which launched in May to collect and analyze evidence of perpetration. Russia possible war crimes in Ukraine.
Russia denies its soldiers are targeting civilians or committing atrocities.
Nathaniel Raymond, executive director of the Humanitarian Research Laboratory, said the report confirms warnings from the United States before the conflict that Russia was using lists of arrests and killings against civilians. "This is the strongest evidence that this happened," Raymond added.
The report, based on open sources of information, says most of the 226 victims were arrested by the Russian army or the Russian Internal Security Service, which deployed some of its personnel to Russian-controlled areas in Ukraine.
The report cites several sources as saying that Russian security forces have hit lists that include names and license plates, among other information. The report's authors added that the identities of the detainees point to a "premeditated" campaign.
The report did not identify some of its sources to protect them. Researchers identified 12 locations used for detention and interrogation in Kherson and Crimea.
According to the report, at least 55 of the reported cases of detention or disappearance involved allegations of treatments that could amount to torture under international law, such as beatings, mock executions, Russian roulette, electric shocks and torture of relatives.
Several people said they were tortured to provide information about the whereabouts of Ukrainian army units. Others said they were questioned about leading protest movements or resistance groups or were tortured into confessing to crimes, the report says.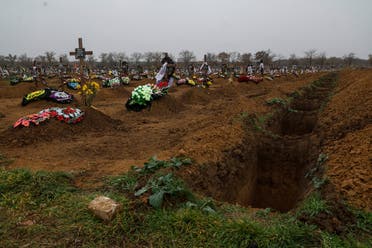 A cemetery for people who died during Russian control in Kherson
According to the report, 60 government officials were among those detained or disappeared, as well as 32 people described as Crimean Tatars, a Turkish Muslim group representing the Black Sea Peninsula's indigenous population.
According to the report, most of those detained and missing are men of military age, including civil servants, civil society figures, teachers, police officers and journalists.
The report stressed that "these findings add credibility to a worrying array of allegations regarding the treatment of detainees, including death in custody, widespread use of torture, cruel, inhuman and degrading treatment, theft from detainees and sexual violence."
The report's authors emphasized that "this study shows that the Russian armed forces must be held accountable for the crimes they are accused of in Kherson."

#American #report #confirms #existence #hundreds #missing #people #Kherson