A rare meeting in Turkey. Washington and Moscow intelligence directors discussed nuclear and prisoner swaps
US and Russian intelligence directors held a rare meeting in Turkey on Monday, during which Washington renewed its warning to Moscow against using nuclear weapons in its war in Ukraine and presented the files of its citizens detained in Russia.
William Burns, director of the Central Intelligence Agency (CIA) and former US ambassador to Moscow, delivered a message to his Russian counterpart Sergei Naryshkin warning of "the consequences of the Russian use of nuclear weapons and the escalation risks for strategic stability" opposite a spokesman for the White House National Security Council.
Sergey Naryshkin (AFP – archives)
The same source stressed that Burns "is not negotiating" and "is not discussing a settlement of the war in Ukraine," adding that Ukrainians were briefed ahead of the meeting.
The senior official also discussed with his Russian counterpart the issue of "unjustified" detentions of American citizens in Russia, particularly in relation to basketball champion Britney Grenier and ex-military man Paul Whelan.
"We confirm that Russian-American talks are taking place in Ankara today," Kremlin spokesman Dmitry Peskov was quoted as saying by Russian news agencies, stressing that they came "at the initiative of the American side." Peskow did not want to give any information about the content of the talks.
For its part, the Turkish Presidency confirmed that "Earlier today, Turkey hosted a meeting between the directors of the US and Russian intelligence agencies".
The Ankara meeting comes at a crucial time in Russia's war against Ukraine after Russian forces withdrew from the city of Kherson last week.
Washington demands a prisoner swap from Moscow
Russian President Vladimir Putin sparked international concern when he hinted at nuclear weapons in a televised address on September 21 and said he was ready to use "all means" in his arsenal to confront the West.
Since then, the United States and its allies have publicly and privately warned Russia, including during a phone conversation between US Secretary of Defense Lloyd Austin and his Russian counterpart Sergei Shoigu.
Despite the war, US officials emphasize that since the start of the Russian offensive on February 24, the United States and Russia have maintained "channels of communication," including through the US Embassy in Moscow, to convey messages and their bilateral relationship.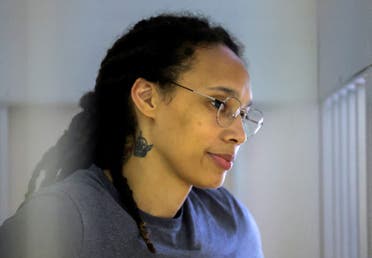 Britney Greiner (AFP)
Last Wednesday, US President Joe Biden expressed his hope that the Russian President would be more willing to talk about a prisoner exchange with the United States.
"I hope that now that the election is over, Putin will be able to debate with us and be willing to consider a prisoner swap more seriously," Biden said at a news conference the day after the midterm elections.
Women's basketball star Britney Greiner has been sentenced to nine years in prison for "drug smuggling" after she was arrested at a Moscow airport in February with an e-cigarette containing cannabis liquid and recently transferred to an unspecified prison.
Washington has repeatedly hinted that it has made an "important offer" to Russia to release former athlete and military man Paul Whelan, but has so far received no response.
According to Russian diplomatic sources, a possible prisoner swap could include Britney Greiner and Russian arms dealer Viktor Bout, who is being held in the United States, where he is serving a 25-year sentence.
In the past, the Russians and the Americans have carried out several prisoner exchanges.

#rare #meeting #Turkey #Washington #Moscow #intelligence #directors #discussed #nuclear #prisoner #swaps