6 months ago… China records its first death from the Corona virus
Despite strict containment measures, China announced the registration of its first death on Sunday covid-19 six months ago
Local officials announced the death of an 87-year-old man in Beijing on Saturday, the first since last May, as a result of contracting the coronavirus, whose symptoms were mild but the patient's condition deteriorated due to a bacterial infection.
National health authorities also announced that 24,000 injuries had been registered in the country in the past 24 hours.
In Beijing, where 621 registrations were announced on Sunday, isolation measures have been imposed on residents, who have been told by authorities to stay in their homes, while others have been told to stay in quarantine centers.
And unlike previous outbreaks in the capital, officials appear to have no intention of imposing tougher restrictions on a population exhausted by the tough measures.
On November 11, Beijing surprisingly announced a country's biggest move to ease restrictions imposed to contain the spread of the virus, including reducing the isolation period for travelers arriving from outside the country.
Start of a large-scale test campaign
Clashes between protesters and police over the reintroduction of isolation measures were recorded last week in the southern city of Guangzhou, which is a major industrial hub and one of the epicenters of the current outbreak.
The city reported more than 8,000 injuries on Sunday, prompting officials to launch a large-scale testing campaign in the Haizhou region of about 1.8 million people.
In an indication that China would not lift the closure, authorities urged the population to avoid "unnecessary" movements near the capital to avoid the spread of the virus.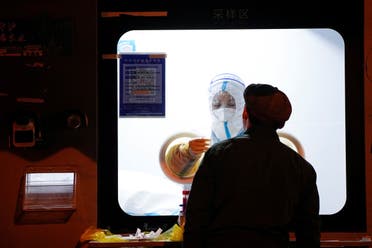 From Shanghai – Reuters
Close malls… and switch to remote work
Some major shopping malls in Beijing were closed on Sunday, while others reduced opening hours or closed their restaurant halls to customers.
Several companies in Chaoyang District, a key trade and diplomatic hub, have asked their employees to work remotely. Parks, complexes and gymnasiums have also been closed.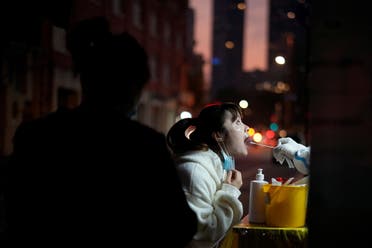 From Shanghai – Reuters
And the French International School in Beijing informed the students' families to switch to distance learning, according to an email from Agence France-Presse.
It is noteworthy that China has become the only major economic power still enforcing strict measures to eliminate the Covid outbreak, imposing lockdowns and conducting a campaign of large-scale investigations with isolation measures, even as the rest of the world has begun to adapt to the coexistence with the virus.

#months #ago.. #China #records #death #Corona #virus