3 presidents ended up in it.. What is the meaning of Pennsylvania?
Just two days before the US midterm elections, Democrats and Republicans alike rushed to mobilize their voters.
They found her no more attractive than the two former Presidents Donald Trump and Barack Obama, who are on opposite ends both politically and personally.
i hugged you Pennsylvania house In this race, only 3 Presidents Obama supported current President Joe Biden against Trump.
And all lights are on this great state where millionaire Trump-backed surgeon Mehmet Oz and Democrat-backed bald former Mayor Jon Fetterman are vying for one of the most contested Senate seats.
Importance of Philadelphia
It is very likely that the balance of power in the House of Representatives will depend on this particular seat.
The voting process in it will be critical, setting almost stark markers for the fundamentals of the upcoming 2024 presidential election and the whims of voters, especially since Biden's success in Pennsylvania two years ago that pushed him forward toward the White House door.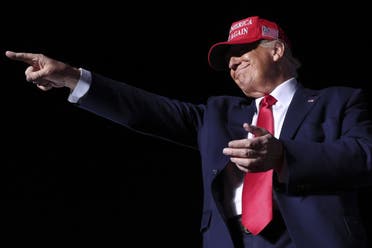 Trump in Pennsylvania (AFP)
Additionally, this state includes large population centers and is famous for its industries, which are currently deteriorating, which could give Republicans a boost.
Over the past few years and races, this state has ebbed and flowed its partisan allegiances, though it has gravitated towards the Democrats in recent decades.
But Trump broke with tradition: in 2016 he became the first Republican presidential candidate in Pennsylvania in almost three decades.
Perhaps these turning points in this state's history and the close conflict between the candidates lend it an aura of importance.
"penalty vote"
It is noteworthy that the biennial midterm elections often provide a referendum on the incumbent's popularity in the White House, and an indication of the approval of his constituents and others, and the option of continuing the policies he has pursued. whether internal or external, or punish him through the ballot box.
This current election comes at a time when many Americans, as well as other peoples around the world, are suffering from high rates of inflation and high energy prices.
They also address issues of unemployment and job opportunities, as well as hospitalizations, street violence, abortion, and other controversial issues in the country.
Will Biden retain his narrow majority in Congress, or will Republicans regain control of the Senate and House of Representatives?
There is no doubt that the answer will come on the 8th of this month, when Americans will vote to renew all seats in the House of Representatives and more than a third of the seats in the Senate, in addition to electing about thirty state governors out of 50.

#presidents #ended #it. #meaning #Pennsylvania